There are a number of reasons to build a shed gym.  Reducing your risk of obesity and obesity related diseases.  Saving money on a gym membership.  Convert an old shed, that is not being used, to a shed gym.  Build a shed gym to keep from cluttering the house with workout equipment.  Finally, outfit your own personal gym with all of the accessories you desire. 
Shed Gym – Obesity and Health Concerns
With the rising surge of obesity and the declining health of the population, getting healthier is important.   If you want to combat obesity and obesity related health risks you have to start working out and dieting.  How you accomplish this can be done a number of different ways, but working out in the convenience of your home is a good start.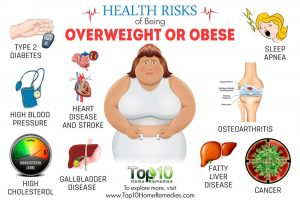 Obesity
According to the Centers For Disease Control (CDC) The prevalence of obesity was 39.8% and affected about 93.3 million of US adults in 2015~2016.  The percentage of obesity is not only rising in the US but also throughout the world.  The health risks associated with obesity are rising also.  There are a record number of people with obesity related illnesses such as heart disease, stroke, type 2 diabetes and certain types of cancer.  Not to mention obesity related back and spinal problems and lost days of work.
Medical Cost Of Obesity
Did you know that "the estimated annual medical cost of obesity in the United States was $147 billion in 2008 US dollars; the medical cost for people who have obesity was $1,429 higher than those of normal weight."   The lost days of work and time with family due to illness is growing also.  You can read the CDC full report here.
Shed Gym – Saving Money On A Membership
So you decide you want to start working out and get in better shape. You need to start somewhere so you turn to a gym membership.  However, is that really a good idea?  Are you really going to travel to the gym daily?
Gym Costs
According to the USA Today,  "The average gym membership costs just under $60 per month, and 67% of memberships go unused. Meanwhile, memberships to specialized workouts like Crossfit have the fit-minded shelling out hundreds per month."  Now that sounds like a lot of wasted money not to mention a waste of time traveling.
Time Constraints
Most people workout at different times and that is according to their schedule.  Some need to workout early in the morning but others late in the evening after work.  The time it takes to get in the car early in the morning or late after work and drive to the gym can be bothersome.  If it becomes too much of a hassle, then you won't go to the gym and workout.
Gym Classes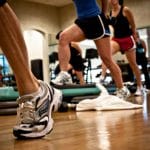 In addition,  some gym classes are only offered at certain times that might not be convenient for you.  At this time there are many home workout routines that are great alternatives to the gym classes.  These include the online series of workouts and dvds.  These are accessed through your smart phone and can be streamed to your television.  Most cable companies have OnDemand workout series that you can watch at anytime.  The options are growing daily and are endless.
Weight Lifting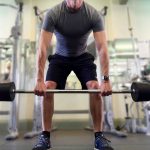 If you are not into doing a cycling or yoga class, then you may want to start lifting weights.  However, you don't want to be around the muscle heads of the gym hogging the weights and making fun of the weaker patrons.  Or you are a muscle head and you do not want to fight for the extra weight that you need to use for your workout.  Either way a home gym is the way to go because you can have the best of both worlds as you go from weak to strong you have nobody that can interfere with your workout.
Shed Gym – Building or Converting Your Shed
Now that you are motivated and ready to start working out at home you need the space.  You do not want to clutter up the kids bedroom with weights and equipment.  Working out and blasting music in the house for your workout will disturb the family also.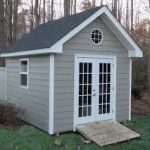 You may have an old dusty shed out back that would be perfect for your shed gym.  So you need to go and clean it out or at least get rid of the clutter to make your shed gym.  You may need to make a few modifications so your gym will be perfect for your needs.
Converting Your Shed- Electricity
The first thing you need to do is make sure there is electricity at your shed.  You will need to plug in your stereo system or exercise equipment.  You may also want to add an exhaust fan to keep the area cool and also keep the gym smell to acceptable levels.
Converting Your Shed – Flooring
Next you want to make sure your flooring is correct.  If the shed is rather old and you have stored some heavy equipment, then you need to look at replacing your floor to make it sturdy.  Also, there are overlays that might work for your gym floor and they make a nice alternative to the wood as they are rubber.  There are many good choices below.
Converting Your Shed – Windows
The scenery has to be nice also, so you need to make sure your shed has plenty of windows.  If the walls and ceiling are not finished then you may want to drywall them so you can make it like another room in your house.  You can check out my previous post on shed ceilings.  The video below is a nice review of drywall installation.
Building Your Shed
In the off case you do not have a shed at home but are excited to build one, then you are in the right place.  The majority of this website is dedicated to the building process so I put links below to the posts dealing with the different parts of the building process.
Building Part One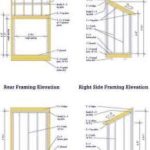 The first step in this process is to find out what kind of workouts you may want to do now and in the future.  That way you can realize the equipment you will need now and what you may need in the future as you get stronger and more in shape.  All of this will determine the size of your shed so you can find the right shed plans.
Building Part Two
Once you find the right plan, then building your shed will be a step by step process.  You will start with the building codes and permits.  Make sure you have those for sure.  Then get the proper supplies to build your shed.
Building Part Three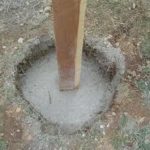 Next step is to build the foundation.  There are many different types of foundations that depend on the terrain and where you are going to build your shed.  There are many options with gravel and wood piers, etc…  Check out my previous post here.  Moving on to the flooring will be next and you need to make a good decision because of the equipment that will be in the shed.
Building Part Four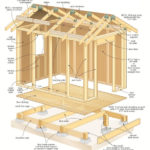 After the foundation and flooring, you will need to move on to the walls and roof.  Don't forget to think about your ventilation options at this point as that can be incorporated into the build and not after the shed is done.  Don't forget the shed siding & guttering and you will be just about done.
Building Part Five
Once the shed exterior and roof is built you will do the inside work with finishing the walls and the ceiling.  This will take a few days to let the drywall cure and then do the painting.  After that is ready I would put down your rubber floor and bring in the equipment and accessories.
Shed Gym – Equipment Needed
Now that you have the shed gym ready you have to make it exactly the gym you want.  This is all in the eyes of the owner.  I have some recommendations below, but you will have to make up your mind on your exercise needs.
Yes, every gym needs a great stereo and television.  This is definitely a must so you can get lost in your workouts and music.  You also may want to workout while watching TV, (the golf channel for me, ha).
Electronics – Audio Systems
There are so many options here and it depends on your budget.  If you want to spend a lot of money, then you could have built in speakers in the shed.  Your smartphone can connect to the receiver and you can play music.  Or if you are limited by budget, then you can get the typical small bluetooth speaker and play music as needed.
Products from Amazon.com
‹
›
Electronics – Televisions
As far as televisions go, I say the bigger the better.  When it comes to electronics my rule of thumb is to spend the money and get the best you can afford so you do not have to replace it early.  I prefer televisions that allow streaming and have had great luck with TCL televsions from Roku.  They stream most cable television apps as well as Netflix, Vudu, Hulu and many others.
Cardio Equipment & Benefits Of Cardio
There are some basic staples to every gym and that is the cardio equipment.  Not everybody likes to do cardio, but everyone probably needs to do cardio.  The benefits of cardio cannot all be stated in this blog post but its positive effects are vast.  Decreasing blood pressure, controlling blood sugar, decreasing the demand on your heart and the list goes on and on.  It is best summarized in this infographic by the Cleveland Clinic.
There are really three options that I typically recommend for cardio equipment.  The treadmill, elliptical or stationary bike.  Any of these will do fine for your cardio needs and you can see some options from Amazon below.
Treadmills
Elliptical
Cycling
Weightlifting Equipment & Benefits Of Weightlifting
There are some people who are afraid of lifting weights and love to do cardio.  However, lifting weights have their own benefits that are different than cardio alone.
Lifting weight will increase your muscle mass and increase your metabolism.  The weight training will stimulate bone growth and decrease your incidence of Osteoporosis.  You can check out this nice post by Health magazine on the benefits of weight lifting.
Weight Bench & Dumbbells
There a number of options with weight lifting and the main two pieces of equipment is a weight bench and some dumbbells.  I prefer the Powerblock and Bowflex dumbbells as they can go from a very light weight to a heavy weight easily.  Also, they do not take up a lot of space like a bunch of separate dumbbells would.
Smith Machines
As you get stronger you may need to handle heavier weights and the safe way to do this would be to look at a Smith Machine.  This is a machine that has a self spotting feature to allow for that extra bit of safety.  These machines are for people who already have a lot of muscle and strength.  However, the possibilities of exercises are endless with these machines.
Extras
Some honorable mentions of equipment would be weight lifting bands.  I found these to be a great alternative to the weights as it can lead to better range of motion.  However, it is also beneficial if you are recovering an injured muscle.  Don't forget the water cooler if you do not have water in your shed gym.
Shed Gym – Conclusion
As you can tell there are a number of great reasons to start a home shed gym.  The health benefits of starting your exercise program cannot be stated enough.  You can save money on a gym membership provided you stick with your program.  A shed gym is a great option so you do not clutter up the house or garage.  It will provide a sanctuary for your workouts and you can make it your own perfect gym without the hassle of a regular gym.  Make sure you outfit your gym with the right equipment for your needs and future exercising needs.
All the best,
JB