How do you build a lean to shed?
A lean to shed can be a great addition to your home.  Pick the right plan for your needs and find the right spot for your shed.  You can construct this shed on a patio or an area close to your home.  Start with the proper floor and move on to the walls and roof.  Do this correctly and you will have a great storage shed for just about anything.
Lean To Shed Construction – Thoughts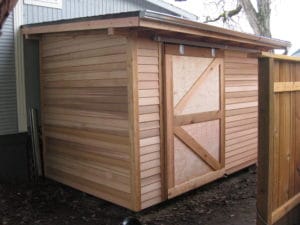 Start your lean to shed construction project today so you can have an easy to build shed for your storage.  A lean to shed is one of the most common sheds built today.  This is because lean to shed construction is a very easy build and can be done in a weekend.  Once built, the lean to shed will give you ample space for storage.  Furthermore, since it is built up against the house it is hidden from the yard and therefore perfect for a storage solution that is hidden.
If you are not into building a lean to shed from plans, then you can buy a shed kit.  Some of these kits are of good quality and will last quite awhile.  There are many options at the local department store.  There are many options on Amazon also and they can delivered to your door.  Building these kits is like building a lego building as the steps are easy and minimal tools required.
Lean To Shed Construction – Before Building
Once you make the decision to build a lean to shed you will need to get a couple of things done first.  First of all get a good set of plans.  There are hundreds of different styles of lean to plans and you can access a good set of plans here.   Second, evaluate your home and yard so you find the right place for the shed to be built.  Now that you have the plans and the place for your shed it's time to build.  You will need to get the materials to get your project started right.  The materials needed will be according to the plans you chose.  Make sure you use pressure treated lumbar so it can withstand the elements.
Lean To Shed Construction – Building
Foundation and Flooring
Once you have the plans and the lumber, you will begin building the shed from the ground up.  Most lean to sheds are built next to a home.  Half the time the shed is built on a concrete slab and the other half of the time the floor will be on the ground.  Check out my post on shed foundations. This may help you decide on the proper foundation.
If on a concrete slab, then proceed to building your walls.  If you have a wooden floor, then my recommendation is to put down a gravel base.  This will take some preparation to make sure the ground is level.  Then  build the floor on top of the gravel foundation.  Once the floor is constructed per your shed plan then cover the floor with plywood.
Walls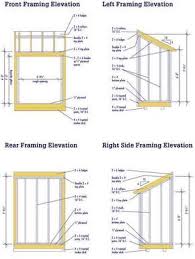 The walls are built according to the plan and size of your shed.  However, you need to make a decision if you want a window with your lean to shed.  There are many different types of windows and you can find out more from my previous post on window ideas.
You also need to find out what type of door you would like to have for your shed.  I recommend sticking with a single door or double door if you are storing a lot of things in the shed.  However, there are more door options available.  Read more about door options here.
Roof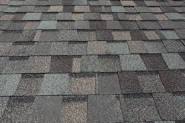 The roof is a single pitch roof so the water runs away from the back to the front of the shed.  The construction of the roof is very simple.  Your plans will have this according to the size of the lean to shed you are building. The roofing material can be vast but I would stick with a basic asphalt shingle roof or a metal roof.  You may want to build in a guttering system on the shed so you can catch the water and use it for your plants, garden, etc…  Read more about guttering on my previous post.
Lean To Shed Construction – Conclusion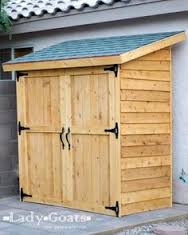 A lean to shed is a very basic and easy shed to build.  The size of the shed will depend on how much storage you need and the use of your shed.  Make sure you have the right set of shed plans and build the right lean to shed that fits your desires.  Don't forget about prebuilt sheds that you can assemble if you do not want to build from a set of plans.  There are a lot of great options on Amazon here.  You can watch a typical shed being built on my previous post build a shed video series.
All the best,
JB