What are the top 12 shed upgrades?
Once you've made the decision to build a shed you will need to spruce it up with some upgrades.  There are many shed upgrades that are fantastic and you will find the top 12 shed upgrades for just about any shed in this article.
Preparing For Your Shed
You've made the decision to build a shed.  Therefore, you will need to make sure that not only is it built properly, but you need the best shed upgrades.  The type of upgrade you will need really depends on the purpose of your shed.
Obviously if you built a shed that is for a man cave then you most likely will not want flower boxes on the windows.  However, if you build a lawn shed to store lawn equipment, then you most likely will not need To put a 40 inch plasma screen television on the wall.
Have no fear, I have gone through the variety of options that most people install for their shed.  This is by all means is not an all inclusive list, but it is a list of the most common upgrades.
1. Flower boxes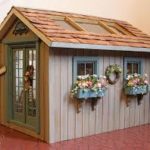 If you are a gardener then you may want to have flower boxes.  This is a nice upgrade to your shed because it will allow you to update the exterior.  Flower boxes are easy to build and easy to install even if you have a shed that is already built.  Depending on what you want to plant inside of the flower box will determine the size of the flower box you need to install.
You will need a good wood that will stand up to the weather.  Redwood and cedar is best, but expensive.  However, there are many alternatives like Acacia, Black Locust, Cypress, Douglas-Fir and Teak.  Cypress is rot and insect resistant but sometimes hard to get.
Here is a step-by-step process of how to build a flower box and a couple of videos to give you some instructions.
Building the Flower Box
Find the size of the box you want to build according to the size of your window and what you are going to plant.
Cut boards to the length and width of the boxes according to your plans or dimensions.
Glue and screw the  front, back and bottom boards together to make the box.  Then fasten the side boards and make a nice box.
Drill weep holes in the bottom of the box to allow for drainage.
Sand it down to make it smooth.  You can stain or paint the box.
Use galvanized steel brackets to install on the shed so it does not rust.
Below are some videos that I found that explain the process nicely.
2. Ventilation
Choosing the right ventilation is not difficult but it is a necessity.  This will depend on the purpose of your shed.  If you have a basic lawn shed, then that would lead to different ventilation as compared to a cigar shed.
Basic ventilation is a necessity to combat mold and mildew.  It will also prevent damage to your shed contents or the shed itself.  You can check out my in depth article about shed ventilation here.
Gable vent or turbine vent.  These are the two most common vents for your shed as they can move air in and out of the shed easily and without power usage.   Easy to install or add on to your shed.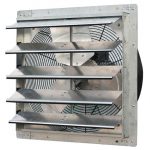 Powered wall vent.  This is a workhorse for exhaustion.  It would be typical in a shed that you are doing a lot of painting or craft work that has fumes.   Also for a cigar shed where you need to exhaust smoke out of the shed.  Just remember that if you have to exhaust a lot of air you need to have a supply of good fresh air coming into the shed to displace the bad air.
3. Gutters
Let's face it, not all areas have the same climate.  If you live in an area that has a rainy season then you need to think about shed gutters.  Also, if you have a yard that stays soggy then you want to think about a gutter.   My previous post about shed guttering can be found here.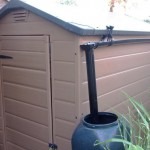 Gutter options for sheds are not vast.  Halls Rainsaver guttering is a nice add on solution as it is easy to install and not very costly.  One can collect the water for use in the garden.  Also if your shed is a potting shed then you a fresh supply of free water for the taking.
Other options would be for custom gutter installation and would be recommended if you have a larger shed to justify the cost.  However, I am a big believer in guttering as it will keep your foundation stable and decrease the risk of your shed sliding off the foundation.
There are many nice options with guttering.  Most people will install the same guttering that is on their house to make the buildings look uniform.
4.  Ramp
This is an upgrade that many want and need.  If you are going to be moving heavy objects into and out of the shed then you will need a shed ramp.  This is especially true if one is using the shed as a lawn shed.   Moving in mowers and tillers is much easier with a ramp.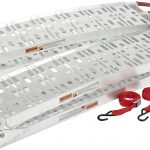 There are options for ramps that people overlook. If you have a shed that is already built with steps, then you can get portable ramps.  These are great for moving in lawnmowers into and out of your shed.  However, it also is great for driving your lawnmower into the bed of a truck for transportation.  A portable ramp is much cheaper and more versatile.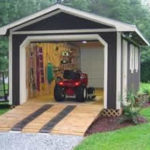 A custom built ramp is better for a shed that you are building and know it will be to house lawn equipment.  You can learn how to build a ramp on my previous post.  Just think about your shed usage and if you are going to store heavy equipment or lawnmowers then get a nice ramp.
5.  Insulation
Most sheds can get hot.  Most people do not want to install insulation on the inside because then they would have to finish the ceiling.  So what is the alternative?
What if you could paint your shed and somehow that would help keep it cool?  There is a solution.  There is a paint additive that will reflect the heat from the sun and prevent your shed from getting too hot.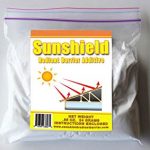 Sunshield Radiant Heat Barrier Paint Additive is made by 3M and is a paint additive used as an energy saving barrier.  It has been used on many different structures over the years.
There are microspheres that are hollow and form a barrier when mixed with your paint.  This allows them to block the heat from the sun and keep your shed cool.
It mixes well with colors so if you want to paint your shed a nice green or blue it won't mess up the color.  Because it is mixed with the paint it will get into every crack and crevice.  Therefore, it will block the heat from the sun in the hot months and keep the heat inside the shed in the cold months.
6.  Windows
All sheds should have windows.  I cannot stress that point enough.  It provides light inside of the shed and also ventilation.  It is better to have plans that have windows already in the plans.  If you have a shed that is already built and you need to add a window, then that can be done.  It will take some time but here is a series of videos that will guide you how to install a window in a wall without a window.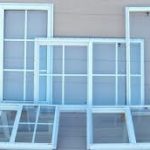 Not only can windows provide a lot of ventilation, but they can also provide a nice look to your shed.  If your shed is a potting shed, then you can put a flower box outside of the window.  Some windows look great with a flower box and siding around the windows like in the picture below.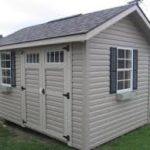 7.  Audio System
You have a shed and you are going to spend a lot of time in the shed so you need to listen to music.  You can bring a radio to the shed and listen to music or you can install speakers in your shed.
I prefer an Alexa from amazon.  They are great devices that can stream music and give you weather reports and look up just about anything you want.  It is a great small and cheap alternative but it will need a wifi connection to get the most out of your device.

Speaker installation can allow you to link your phone to the speakers directly or you can have a receiver connected to the speakers and that would give you more options for music.  If your shed is going to be for a man cave type shed then you may want this option and a television also.  You can install the speakers for music or for surround sound.  Pyle makes a good speaker that is versatile.
8.  Television
This is primarily for sheds that are going to be more of a retreat and not so much for storing lawn equipment.  It can also be for a potting shed or a shed that doubles as a workbench area.  Having the game on in the shed while doing some woodworking wouldn't be a bad idea either.
When finding a television for a shed determine the size of television you would need.  Once you have that idea down, then I recommend finding a smart TV that can stream you favorite programs.  Of course your shed will need to be close enough to your house to get access to your home network.   You can buy a wifi extender if needed.
Smart televisions like the Roku television by TCL is a good option.  I have two of these televisions throughout my home and they work like a dream. This allows you to stream your cable and apps like Netfilx, Vudu, Hulu, etc…  Depending on the size of your shed you can get 32″, 42″ or if a man cave 50+ inch.
9.  Shelving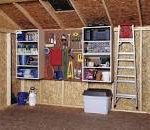 Proper shelving for your shed is determined by the type of shed you are building.  If it will be a typical lawn or garden shed, then custom built shelving is a good idea.  However, there are many non-custom shelving options that you can purchase.
Metal shelving could rust if the humidity in the shed is too high.  However, they are sturdy and can be adjusted nicely.  Some have wheels and can be moved easily.
However, there are also nice options with plastic shelving.  Some are stackable and can be customized for just about any purpose.  I have these and they work great for me and I have stacked them many different ways.
10.  Mold and Mildew Prevention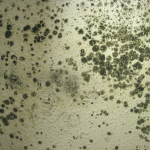 We have a few articles already about mold and mildew, so check those out here if you need to.  However, the basic key is to have proper ventilation for the shed.
Also, you can add dehumidifiers to your shed and that would keep the humidity level down.  These neat devices suck the humidity out of the air.  However, you will need to empty the water container every so often.  You can buy a hygrometer that will tell you your humidity level and allow you to adjust the ventilation as needed.
The words to live by are "an ounce of prevention is better than a pound of cure."  So prevention of mold and mildew is the best thing.
11.  Add Landscaping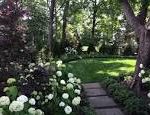 This isn't really an upgrade to the shed itself, but it is an upgrade to the look of the shed.  Having the proper landscaping would add a lot to the look of the shed.
It could also add a lot to the value of the shed and your property itself.  If you do not know much about landscaping, then there is a great landscaping software program that can help.  I have used it myself and it makes landscaping easy to understand and put together.
12.  Build A Deck
This another upgrade that is overlooked by many people.  Having a nice small or big custom deck around your shed can really make it a standout building in your yard.
It can double as a gathering place for your buddies when they come over to visit.  It can be decorated with your plants that you potted in your shed.  The possibilities are endless and each one will allow you to enjoy your shed that much more.
In Conclusion…
Those are the most common shed upgrades that most people want to make their shed more enjoyable.  There are many more options that are available depending on your needs.  Just remember to think ahead about the purpose and style of shed you want.  Get the right plans and prepare before you build.  If you already have a shed, then there are still options for you to make the shed what you want.  Learn more shed ideas on our blog and start building your shed today.
All the best,
JB