After your foundation is done you need to do your shed wall framing.  There are many options for the walls.  Therefore, what you will need depends on the shed plan and if the plan includes windows.  It also depends on the shed purpose.  Get your walls done correctly by understanding the purpose and plan of the shed.  Make sure you have correct plans to get this right.
Shed Wall Framing – Options…
Options for your walls are plenty but it really depends on the purpose of the shed.  For example, 

A lean to shed or storage shed will have walls without windows.  This is because those sheds are used for security and storage.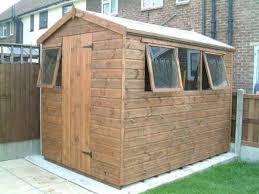 However,  a garden shed or potting shed will have windows so they will need to be framed into the shed walls.  If you want to get creative with the windows you can check out options in my previous post shed windows.
Shed Wall Framing – Construction…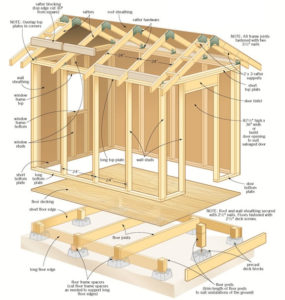 The walls are constructed after your foundation so you can use your foundation to precisely measure and make your shed walls.  First, cut the top and bottom plates of the wall to the right length.  Then cut your studs to the right height of your shed and secure them between the top and bottom plate.  Now put the wall in place and secure it to the floor.  To place a window in the wall make sure it is framed at the right dimensions and height of the wall.  This will be done according to the plan you are using.  Now, repeat the same process for the next wall according to the plan.

Shed Wall Framing – Conclusion…
Getting the walls right can be an easy process.  You will need to make sure you have a clear purpose for your shed and a good set of plans.  The plans should have a complete materials list and step-by-step instructions.  Build the shed walls in a detailed fashion one at a time so you do not make mistakes.  Take your time so it is done right.  Watch the entire build a shed video series to see the building process.
Hope that helps,
JB