Anytime you are going to build a shed you have to think about the shed foundation construction.  All structures are built from the ground up and your shed is no different.  There are many options and they depend on where the shed will be located and what type of soil you have and your budget.  One thing you do not want to do is build it directly on the ground as the moisture may rot the wood and also the shed may lean from ground settling.
Shed Foundation Construction Types
Wood and Pier…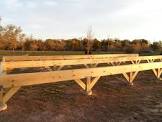 This shed foundation is good depending on the location and type of shed you build.  It is also considered to be a post and beam foundation because the wood is not just sitting on the ground but it is attached to posts that are secured in the ground.  The wood has to be pressure treated to withstand the moisture.  Furthermore, posts are to be secured properly at the right depth for the weight of your structure so you do not have a leaning shed.

Gravel…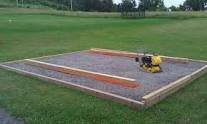 A shed foundation of gravel is good for a small to medium shed.  It is a sturdy foundation and can withstand heavy loads if you are putting equipment in your shed, but they are not the best for large sheds.  A large shed that holds equipment should be on a concrete slab.  Dig a hole the size of the shed and then put the gravel in the hole.  It will need to be leveled and tamped down to make a secure foundation.  The shed is then attached with pegs or auger anchors.

Cement Blocks…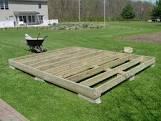 These blocks make for an easy alternative for a shed foundation because they are readily available and can be delivered to your site.  They are spaced at 3-5 feet apart and the shed is built right on top of the blocks.  Level the blocks so you do not have a leaning shed and a  poor foundation.  Cement blocks are easy to move and if you have a small shed and want to move it at some point.  This might be a good alternative for future mobility of your shed.

Concrete Slab…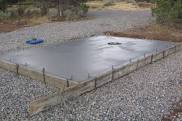 This is the strongest shed foundation construction and can withstand a full load contact.  It is a great foundation for sheds with machinery.  Therefore, if your shed is for equipment or a car then this is the one you want.  With the concrete slab, you do have to be careful if the slab is much larger than your shed.  If that is the case, then you run the risk of water resting on the slab and therefore rotting your shed.  So, you should try to get the slab and shed at the same dimensions.  Check out my in depth post here.

Shed Foundation Construction Conclusion…
In conclusion, these are the basic common types of shed foundations for your structure.  As you prepare to build your structure you need to make sure you have a good set of plans.  The plans will make all the difference in building your structure on a firm foundation.
For what it's worth,
JB