Learn pallet shed ideas as to build the new affordable shed that people want to build.  Is it worth the time and effort?
There's no doubt about it, money is always an issue. So no matter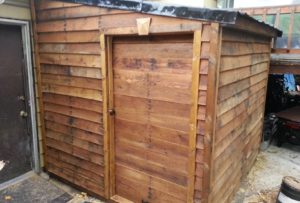 how much you want to get your own storage shed, if you don't have the money you just may not get the shed.  However, if you have the creativity, then having your own shed in your backyard doesn't have to remain a dream.  How, you might ask?  By recycling old wooden pallets.  Some would immediately think that pallets would be an eyesore, but if done properly they can result in a beautiful cost effective shed.
Pallet Shed Ideas- Wood Sources…
Making a beautiful and effective wooden pallet shed can be the answer to your storage needs.  Pallets are widely available and you can get them for free if you know where to ask.  Most commercial buildings, groceries, and supermarkets would just have them lying around.   However, some of these pallets may not have the highest of quality wood but you can still grab the right boards to be sure that your pallet shed is done right.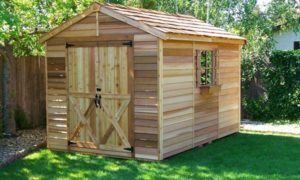 Other sources for free or cheap wood pallets are from your neighbors if they have done remodeling work. Many of them would be happy to give you their pallets so they don't have to get rid of them.   Mills and lumberyards are also great sources for wooden pallets. Check the classifieds and online places like Craigslist as many people are just too happy to get rid of the pallets.  You just need a way to haul them to your house.
Pallet Shed Ideas- The Plans…
Once you have enough pallets you now have to get your hands dirty. But first things first, you would most definitely need to have a good detailed set of plans available for you. Not all plans are specifically written for pallet sheds, but the right plan can be tweaked to make it work most of the time.  You just have to look at many plans and find the right one that could work for you.
Wood is not the only material you will need. So you will have to spend some money on the other aspects of the shed- nails, hinges, doors, windows, etc…  However, you did save money on the wood if you were lucky enough to get it for free.
Pallet Shed Ideas – Conclusion…
So there you have it, the most affordable and easy way to get storage space with free pallet wood. This project can be typically done over a weekend or two.  Take your time and do it right with the right set of plans.  Your wooden pallet shade may look as if a professional did it. Remember, your only limit is your imagination.
For what it's worth,
JB