To Build A Shed or Not to Build A Shed?  That is the Question
The need to have a shed cannot be stressed enough. Many households today are being overwhelmed with their belongings taking up too much space.   It is difficult to decide what to throw away, donate, or sell. If you decide to keep some of those belongings, then where do you store them?  Typically in the attic or to the garage in most cases, which still causes clutter.
To Build A Shed…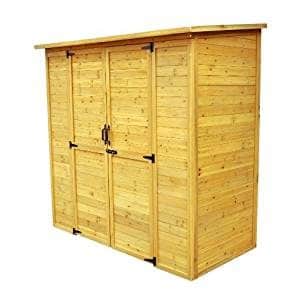 The sure fire way of clearing up space is to build a shed, for your tools, your garden equipment or your mementos. Whether you decide to buy or build a shed is by  far the most important question.  If you do decide to build it yourself, then kudos to you because building a shed is one of the simplest tasks in basic carpentry.
If you have a great command using tools and have a free weekend or two to work on measuring, hammering, cutting, drilling and sawing, then all you need are the proper materials, tools and building plans.  The beauty of creating your own shed from scratch is that you will be able to customize your design and allow it to directly cater to all your storage needs. Not only will you have a functional structure on your property but you will also have a source for great pride and joy.
Not To Build A Shed…
On the flip side, if you have never even built a stool from scratch or even a simple paper weight, then a shed could be difficult.  This case though is not hopeless. If you have the extra money, then by all means buy yourself a shed.  There are many options out there and you can find some ideas on my previous post, The Lawn Shed
There are many great options for buying including materials such as plastic, metal, fabric and others.  However, some of these plans are not very sturdy and you could possibly waste some money on something that collapses in the first storm.  Check the sturdiness of the shed before you buy so you do not waste time and money.
Finally…
But because you're reading this, it's highly likely that you plan to build a shed yourself. To make sure that you don't build an eyesore or a hazard in your own yard, you then need to know that as a beginner you will need a good set of detailed and comprehensive plans.
The best thing about purchasing or downloading a set of shed plans is that, there are so many design options already available today. You will need to do some research on which plan fits the design of your house and meets your needs for storage.  Two options are to buy a kit that has the plans and all the materials included or to buy a set of plans that has a complete materials list and then go out and buy everything on the list and follow the plan.
The Plans…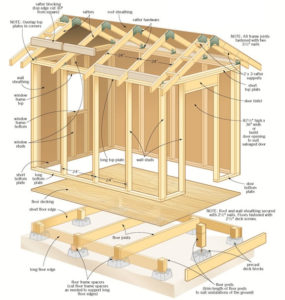 I prefer to get the plan, buy the materials and then follow the plan.  I have put together kits before and some will lack material or a part breaks.  Then you need to go back to the company that sold it to you to get what you need which delays the process.  With a good set of plans you can buy the material and if something happens you just go back to the store and buy the right board or nail that you need.
Whichever you choose, you can be assured that you will have a great time building your shed and also have the self satisfaction that knowing that that shed was created by you.
JB