Your shed frame is built and now here are some shed siding ideas to help you get your shed covered and finished.  There are many options for shed siding so choosing the right one is of importance.  If you built your shed, then putting on siding will be pretty simple. There are many options that range from the cheap economical look to a more elaborate and expensive look.  This depends on your budget and your needs.  Read through the shed siding ideas and find out what you think is best for you.

Shed Siding Ideas – Vinyl Siding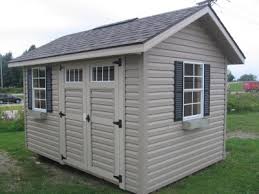 There are many options with vinyl siding as it comes in multiple colors.  Therefore, you can match the shed siding to the color of your home.  This is especially true if your home has siding.  If your home is brick then  you can find a vinyl siding color that compliments your home.  Some drawbacks with vinyl siding is that you cannot paint it if there are blemishes that occur.  If it breaks, then you have to repair the siding but that doesn't happen very often.  Some positives are that you can clean it easily with a pressure washer.

Shed Siding Ideas – Composite Siding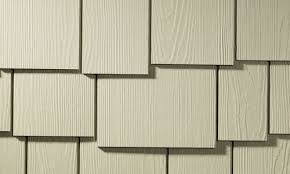 Composite siding is siding that is a mix of vinyl siding and wood siding.  Some also refer to it as engineered siding.  The advantages to this siding is that it is inexpensive as compared to wood siding.  There is less occurrence of fungal accumulation since it is treated with anti-fungals.  It comes in many different looks and because it is engineered the natural knots of wood are removed.  Further, most are warranted for many years.  Typical names are LP SmartSide, Catawba, Truwood.

Shed Siding Ideas – Wooden Siding
Now you are looking at the most natural look for your shed.  You built your shed from wood now you can cover it with wood.  Installing is not much different then the other sidings,  but there are different options to your wood finish.
If you are looking for a natural finish, then choose boards like oak and cedar which has some natural resistance to the elements.  However, it can be costly.
On the flip side you can paint the wood siding, but then you have more maintenance.  As the paint will chip and erode away and then you will need to scrape and repaint.
Think long and hard about the wood siding because it can get costly and with lots of maintenance.

Shed Siding Ideas – Metal Siding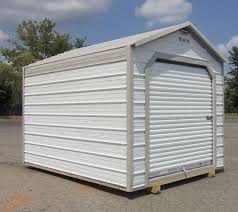 There are basically two options with metal siding.  First, there is aluminum siding which can dent easily.  However, it is resistant to corrosion.  Second, you have steel siding which has more corrosion but this can be reduced by buying galvanized steel, which is a paint coating that protects from corrosion.

Shed Siding Ideas – Cement Siding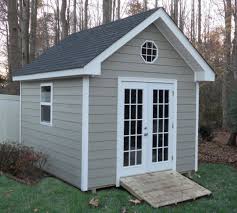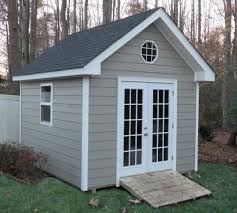 Cement siding is made from cement, sand and cellulose fibers and is a very durable siding.  It installs similar to the wood siding and has the advantages of being more durable and resistant to water, fire and insects.  However, it is a little brittle so it can crack upon impact.  Also, there are special tools to cutting the boards and the create a lot of dust when cutting.  The most common name in cement siding is HardiePlank siding.

 Shed Siding Ideas – Conclusion
As you can tell there are many options and ideas to shed siding.  As you build your shed keep in mind the siding options for the look of your shed.  Also, keep in mind the siding options for your budget and ease of install.  Once installed make sure to keep a look out for shed mold as that can ruin the look of your shed.  If you haven't built your shed yet, then find the right shed plan and get started today.
Hope this helps,
JB