Considered to be the heart of your garden, your potting shed greenhouse is creatively designed to store your garden tools and accomplish most of your gardening tasks. From the name it implies that it is the primary area and purpose to repot plants.  Repotting can be a tough task to do and is a messy activity, therefore, it will be nice for you to have a specific area to accomplish this task.  Furthermore, your potting shed is a perfect place for starting young plants in case you have cold sensitive and tender plants.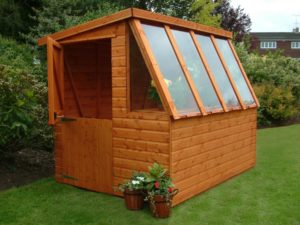 But a potting shed does not only limit you in storing your garden tools, re-potting or growing young plants it is also ideal, if big enough, for storage of other equipment like sports, lawn and small building equipment depending on the size of the shed. You may assemble the shed from scratch or kits making it easy to install, which are quite ideal for any size of the garden.
The Potting Shed Greenhouse- The Work Area…
Today, many of the gardeners are investing in making their sheds a pleasant area to work, creating a nice place to work regardless of the weather condition. If the space is good then you may include your garden or repair tools and may also have the ability to work on other projects.  So, your shed is really an addition and workplace for you to work on gardening tasks and store tools and equipment practically.
The Potting Shed Greenhouse- Walls…
Depending on your needs you may decide with either wood or glass walls.  Wood will be a perfect material for your walls as it will offer you great durability and can withstand any weather condition. Glass walls will give you a neat and elegant look for a potting shed. Though it will increase your cost and may be difficult to clean once dirty.  However, if you wan a nice elegant look, then it might just be right for you.
The Potting Shed Greenhouse – Guidelines…
So, to help you decide what size of shed and type of construction, read the following guidelines:
6×4. this size of the shed will provide you an ideal size since it will suit any size of the garden where it offers you an amazing amount of space for storage while giving you a reasonable pricing.
7×5. This potting size shed offers you a versatile amount of space for storing garden tools, house cleaning equipment and any other tools that will fit.
7×7.You may do your DIY projects like assembling your bikes, etc… as this potting shed is a little bigger.
8×6.This size of great for storing your bikes, garden furniture, lawn mowers and barbecue furniture, but then you may want to get a basic garden shed instead of the smaller potting shed.
10×8 and 12×8 may be too big for a smaller potting shed so consider the bigger basic garden shed.
The Potting Shed Greenhouse – Conclusion
So now, you already have the idea for the different sizes of the shed. The best size for you to pick will depend on the equipment and tools you are going to store and to the type of task you are going to work on. So, before you construct a potting shed, you have to determine first its purpose to you.
Thanks,
JB