JB here and a new post on shed door options.  Depending on your shed style you can have many different types of shed doors with some of the doors being very elaborate while some are basic doors.  The doors are most commonly made from different materials including wood and metal.  There are many styles of doors and some options include basic doors, sliding doors or even like a garage door.
Not for sure which door you need for your shed?  It really depends on the purpose and style of your shed.   For example, if you have a shed for lawn equipment then you may want a wide open doorway like a dual opening door.  However, if you have a shed that is like a man cave then a regular door with a lock would be preferred.
Types of Common Shed Door Options:

Basic Shed Door Options.  This is exactly the way it sounds.  A basic door with hinges.  One of the easiest doors to install.  You can even build your own door if you are handy enough.  They come in all sizes and shapes and are custom to your opening.  You can have wood or metal.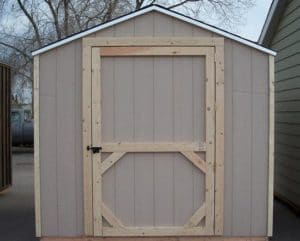 Sliding Shed Door Options:  These doors are nice to maximize your floor space because these doors slide open on a track so no part of the door swings into your floor space.   With extra floor space you have more options in what you can do in your shed.  Sliding doors are built with different materials including wood and glass so there are many options finding the one you want for your shed.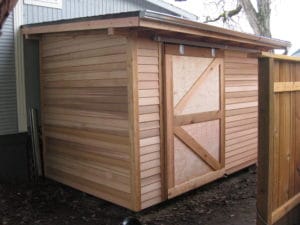 Dual Opening Shed Door Options: These doors open up together or one at a time.  Very useful for sheds with lawn equipment or if you need a really large doorway to get any other equipment in or out of the shed.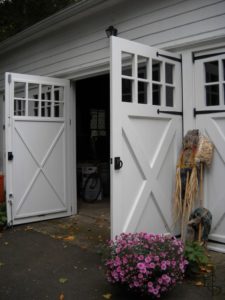 Roll Up Shed Door Options:  This is basically a garage door for your shed and looks really cool.  You can find out how to build this in your shed at one of my previous posts.  This door is locked and secured easily so it adds to the security of your shed.  Therefore these doors are just like the doors on a storage shed that one would pay a monthly fee to secure their belongings.  They allow maximum floor space for storage but may not be the best door if you are going to do some work in your shed.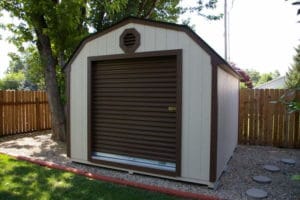 Now you know the basics of shed doors so you can get creative and find the right door for your shed.
For what it's worth,
JB