There are many reasons to have a shed for your home.   Whether you buy or build the home of your dreams there will always be one area of your life that you desperately need and that is more space.  There are multiple reasons you need more space and of course your reasons are yours but here is a list of a few.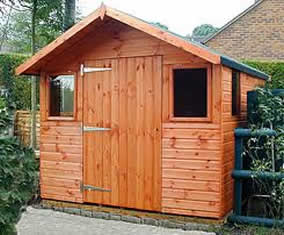 A Few Reasons For A Shed:
New Hobby:  You get a new hobby and before you know it you are busting out at the seems with no room for your new stuff.  So adding a little extra room to the garage by building a shed and moving the lawn equipment in there will free up a lot of space for your new hobby.
Gardening:  Maybe you are taking up gardening or already have an existing garden and you do not want to have to carry everything out to the garden just to bring it back to the garage, so place a shed near the garden and you have everything right at your finger tips.
Man Cave: Or maybe you want a man cave away from the house so it doesn't bother the family and give you a place to have the guys over for a night of football, drinks, etc…
Tools: Your garage can only hold so much and if you are a person with many tools and not much room to store them or for that matter use them in one specific area over and over then you may need a nice shed for the tools and one that is big enough for workspace.
Kids: If you have kids and then they may want a playhouse, so many shed ideas are big enough to make a nice playhouse for the kids and also to store their outdoor toys.
Shed Reasons? – Your Plan…
Once you decide on "your reason" for a shed or structure then you need to figure out if you are handy enough to build the structure.  Or  do you have someone else build it for you.  Whatever your decision there are a few things to consider.  Cost and time are the two factors to think about.  If you are a person that has the resources and need something quick then you should buy a shed.
Shed Reasons? – Should You Build..
However, if you have at least some limited skills on building things and repairing things then you should build your own shed.  I know it sounds tough but it really isn't if you have the right plans and tools for the job.  There are many professional plans on the market that you will pay top dollar for but there are also many easy to read and follow plans.  Kind of like paint by number, but with boards and nails.
If you are serious about getting a shed for your home, then check out all of the different options.  Make a decision for buying what you want, having someone build your shed or just taking a weekend and doing it yourself.  You will be amazed and what an addition they can make to your lifestyle and home.
For what it's worth,
JB