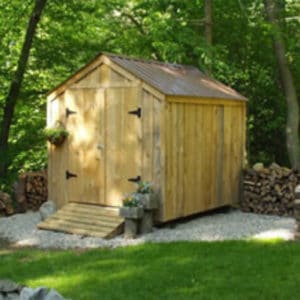 You built your shed and now you need easier access so learn how to build a shed ramp.  A ramp for a shed is different than a handicap ramp for a house because the handicap ramp has a different slope by code.  However, a shed ramp can be at many different angles but you do not want to build it too steep.  If you need the ramp for walking into the shed or for driving a vehicle into the shed makes a difference on the build of your ramp.
How To Build A Shed Ramp – Slope
The first part of building the ramp is getting the slope correctly so you can prepare the plan and get the materials.  Once you get the slope then you need to make sure the ground is level.

How To Build A Shed Ramp – Foundation
Decide if you want to have a gravel or concrete foundation for the ramp.  You may want to just have the ramp lay on the ground and that is fine for most ramps but be careful if you are driving heavy equipment on the ramp.  Heavy equipment can prevent the ramp from being level and drive the edges further into the ground if not on a secure foundation.
How To Build A Shed Ramp – To Attach Or Not?
Now that you have the slope and the foundation done you can start the building process.  This is relatively simple but you first have to decide how you want your ramp attached to your shed.  You can actually have it attached to the door opening or you can build the shed and place it at the opening and not attach it all.  Which way you decide depends on the purpose of your ramp.  If it is for a walking slope then you can get by with placing it at the doorway.  However, if you are driving equipment on the ramp then attach it to the building.

How To Build A Shed Ramp – Put It Together
Cut your frame with the right angles from the slope calculations above.  Make sure the framing is not too far apart or the boards on top may sag over time so 12-16″ framing is appropriate.  Once the framing is in place attach the top boards.  You may also want to attach a no slip cover on the ramp for safety and if you are driving heavy equipment it will help with the tire grip.
How To Build A Shed Ramp – Conclusion
Now that you found a great set of shed plans and you built your shed you need to build the ramp.  Keep the above tips in mind as you build your ramp.  Get the slope, level the ground, and figure out your foundation.  Then build your ramp with either attaching it to the shed or not.  Don't make it too difficult.
I hope this helps,
JB